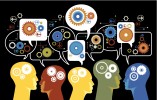 This piece was written in collaboration with Walter Montgomery and first appeared in the Science of Communication publication on Medium
It is fashionable these days to think of communication as both art and science, albeit with the scales progressively tipping toward the latter. For many communication professionals the term "science" conjures up notions of data analytics, artificial intelligence and the like. Yet the current passion for all things digital notwithstanding, it will be years – if not decades – before these and similar applications embody characteristics like perception, intention, integrity and empathy; all of which are vital to successfully connecting with a public increasingly skeptical of experts, often indifferent to facts and deeply divided by entrenched emotions.
Overcoming these challenges requires a diversity of human-centric knowledge and skills in disciplines such as cognitive psychology, behavioral science, neuroscience, complexity theory and social network analytics. In combination with digital technologies they comprise what can be thought of as a "science of communication," and practitioners need to master its multiple components just as finance, legal, IT and human resource specialists have full command of their domains.
Most corporate communicators, however, have honed their know-how during times of relative stability, when sound judgment, based mainly on personal experience, was deemed sufficient. As serviceable as these attributes may be, they are no longer enough to get by in ever more complex ecosystems. Rather than rely primarily on their empirical talents, communicators must go well beyond traditional assumptions of what constitutes expertise, and cultivate a more scientific approach to their profession.
Thinking Across Disciplines
Sadly though, many communication pros look at scientific findings and glibly conclude they "already know that." Granted some research outcomes may, at first, seem apparent; even so, there is intrinsic value in accurately confirming what might already be known. Moreover, when people closely examine what is supposedly obvious, they are likely to uncover new possibilities.
Original ideas also surface where distinct disciplines merge. Complex systems theory, for example, is rooted in the study of natural sciences, mathematics and computing. For their part, cognitive and behavioral sciences encompass fields of psychology, sociology, anthropology and philosophy, among others. And all are enhanced by being able to gather and interpret vast amounts of data. Yet it is in the exploration of networks where some of the most compelling discoveries emerge.
The focus of neuroscience is the brain, an infinitely complex network that not only manages billions of electrical connections that maintain life, but also directs myriad facts, experiences, impressions and memories that invariably combine to form ideas. Such ideas converge with others to create equally sophisticated social systems.
Recently, researchers at the University of Pennsylvania's Communication Neuroscience Lab applied social network analysis to examine how brain networks and social networks inform each other. Using functional magnetic resonance imaging (fMRI) to measure activity in separate regions of the brain, they matched dynamic networks of the mind with those of the social world to illuminate how, in their words, "psychological processes may shape and be shaped by social environments."
Integrative processes like this are essential at a time of increased complexity. But communication science itself becomes more intricate as issues intersect, audiences fragment and the means to reach them expand. Which is why communicators of all stripes must broaden their expertise. College communication majors can upgrade their education by judiciously incorporating natural, social and computer sciences into their studies. Current practitioners can do likewise, either in the classroom or on their own. At the very least they should all keep up-to-date on the latest developments.
Cognitive Diversity
Although an extended familiarity with various subjects makes it possible to more readily adapt to changing circumstances, the spate of global challenges exceeds the cognitive capacity of any one person. Thus, collaboration is equally imperative, as it elicits fresh facts, ideas and perceptions from distinct spheres. Indeed, in a series of experiments reported in the Harvard Business Review, researchers found that cognitive diversity can advance learning and performance in the face of uncertain situations.
Some organizations already recognize the need for interdisciplinary approaches. Earlier this year the Massachusetts Institute of Technology launched its MIT Intelligence Quest, bringing together social scientists, neuroscientists, computer scientists and engineers to reverse-engineer human intelligence in a drive to develop new technology tools. Elsewhere, the University of Florida is building a curriculum in public interest communication – a merger of public relations, marketing and journalism education, informed by fundamentals of sociology, psychology, political science and neuroscience.
Other enterprises are sure to follow as they strive to understand and cogently explain complex issues and ideas to disparate stakeholders. But one absolute requisite for a scientific evolution in communication is that it be mandated from above. Clearly, it is impractical to expect corporate top brass have the time or attention to directly devote to these challenges. Nonetheless, they ought throw away the outdated presumption of communication as a support function, and instead welcome it into the leadership framework.
To that end, a comprehensive science of communication that fuses a broad range of knowledge, skills and perspectives will be critical to their success.